Hyundai Santa Fe vs Kia Sorento

Are you in the market for an SUV with attributes that will help you hold your own throughout your travels around Reynoldsburg, Columbus, and Westerville, Ohio, no matter what challenges you may encounter? If so, then you're bound to be interested in the Hyundai Santa Fe and the Kia Sorento.
To help you make a decision between these two models, the team of experts here at Dennis Hyundai East has put together this Hyundai Santa Fe vs. Kia Sorento comparison. Take a moment to read through it to find out how they stack up to one another.
SHOP OUR HYUNDAI SANTA FE INVENTOR
Santa Fe vs Sorento: A Look at Comfort Inside the Cabin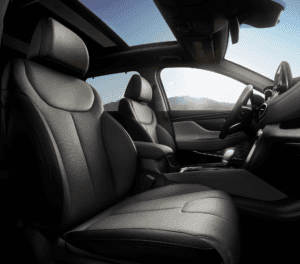 While both these vehicles have a lot of comfortable space for their occupants, one boasts a bit more wiggle room than the other. This is evident by examining a few key measurements. We'll start with the Santa Fe:
First-Row Headroom: 41.2 inches
First-Row Legroom: 44.1 inches
Second-Row Shoulder Room: 58.3 inches
Second-Row Hip Room: 56.3 inches
Here are the measurements for the same areas inside the Sorento:
First-Row Headroom: 40.3 inches
First-Row Legroom: 41.4 inches
Second-Row Shoulder Room: 58 inches
Second-Row Hip Room: 55 inches
While it's certainly close, these numbers show the Hyundai Santa Fe will provide you and your traveling companions the kind of roominess you require.
Sorento vs Santa Fe: Convenience and Safety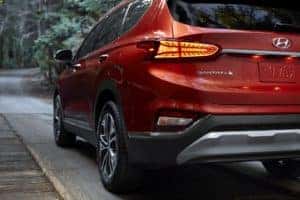 When it comes to convenience, you can count on the Santa Fe to make your time on the road easier. The available Heads-up Display is one of the features that helps accomplish this. The Heads-up Display makes it possible to focus more of your attention on the road ahead by placing important information, like your current speed, directly within your line of sight. You won't have to take your eyes away from the road for even a second! This type of feature is not available in the Sorento.
A safety highlight you'll only find in the Santa Fe is the standard Driver Attention Warning that helps during those longer drives when you might find it hard to maintain your concentration. If your driving behavior reveals you're drowsy or distracted, this feature will alert you to suggest it's time to pull over and get some rest.
READ MORE HYUNDAI SANTA FE REVIEWS
Hyundai Santa Fe vs Kia Sorento: The Results Are In
With such benefits as the voluminous personal space, the convenient Heads-up Display, and the reassuring Driver Attention Warning, the Santa Fe successfully takes the top spot in this Hyundai Santa Fe vs. Kia Sorento comparison.
The truth is, we've merely scratched the surface in terms of the many advantages in store when you take your place behind the wheel of the Santa Fe. If you're in Westerville, Reynoldsburg, or Columbus, OH, contact the team at Dennis Hyundai East today to schedule your test drive.