Hyundai Santa Fe Safety Features

Is making sure that your next car has what it takes to keep you and your passengers safe throughout your daily Reynoldsburg, Columbus, and Westerville, Ohio commutes a high priority for you? Dennis Hyundai East would like to direct your attention to the Hyundai Santa Fe. It boasts an abundance of attributes that you'll be glad to have at your disposal.
To give you a good idea of what it can do for your overall driving experience, we put together the following Hyundai Santa Fe safety features review. Read on to get started.
Shop Our Hyundai Santa Fe Inventory
Features for Maintaining Optimum Control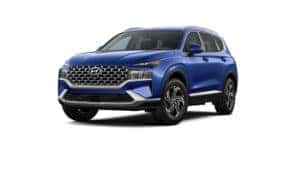 From the moment that you pull out onto the road, you're going to have access to plenty of Hyundai Santa Fe safety elements to help you along the way. First, there's standard Electronic Stability Control with Traction Control System and Brake Assist. All three of these items work together to ensure you get a stable ride no matter what road or weather conditions you encounter.
Hillstart Assist Control comes standard as well. You can count on it to kick into action any time that you're ready to continue up a hill after you've been stopped part of the way. By holding down the brakes long enough for you to switch your foot from the brake pedal to the gas pedal, it lets you accelerate properly without rolling the wrong way back down the hill.
The Hyundai Santa Fe Gives You a Boost in Awareness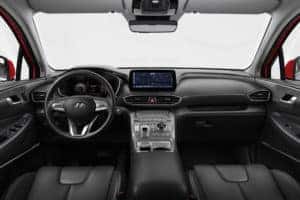 Safety items that help you stay abreast of your surroundings include Blind-Spot Collision-Avoidance Assist. It makes it easier for you to move from lane to lane without incident by telling you when a vehicle has entered one of your blind-spot zones.
Rear Cross-Traffic Collison-Avoidance Assist is another feature that's well worth mentioning. This available feature brings to your attention that a vehicle has crossed into your path while you're driving in reverse. It can come in handy when you find yourself backing out of a parking space or driveway.
Tools That Facilitate a Safe Exit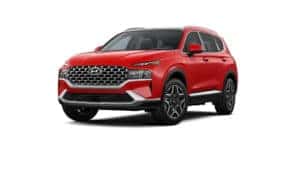 The Santa Fe continues to keep you and your fellow occupants secure once you have reached your destination. An example of this is Rear Occupant Alert. This standard feature reminds you to check the back seat for any child, pet, or important package that you may have placed there before your journey began.
Safe Exit Assist alerts occupants if a vehicle is approaching while they're attempting to get out of the SUV. This is an available Hyundai Santa Fe feature.
Read More Hyundai Santa Fe Reviews
Come Explore These and Other Santa Fe Safety Features
As you can see, the Hyundai Santa Fe has you covered in the safety department. If you would like to get a firsthand look at this reassuring mode of transportation, simply stop by or contact our Dennis Hyundai team. We will get you all set up to take the Santa Fe for a test drive out on those Columbus, Westerville, and Reynoldsburg, OH, roadways.