Hyundai Palisade vs Kia Telluride

One of the things car brands constantly try to do is create new and innovative vehicles that can help you and your family with an abundance of features. Two new additions to the many different car models available are the Hyundai Palisade and the Kia Telluride that made their debuts in 2020.
Both these models are back again in 2021 with new features designed to help keep your family safe and entertained throughout your travels. In this article, we'll look at the Hyundai Palisade vs. Kia Telluride and compare some of their features. Remember, too, you can find the Hyundai Palisade at Dennis Hyundai East near Reynoldsburg, Columbus, and Westerville, OH.
SHOP OUR HYUNDAI PALISADE INVENTORY
Hyundai Palisade vs Kia Telluride Safety Features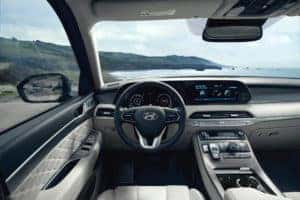 When it comes to family vehicles, especially SUVs, safety can mean a great deal to drivers. You expect your vehicle to help keep your family safe wherever you go, to help you stay on the road and remain protected from any potential danger.
Both the Hyundai Palisade and the Kia Telluride offer increased safety features that help as you navigate through your travels. These shared features include Lane Keeping Assist, Driver Attention Warning, and Safe Exit Assist. These safety technologies make you more aware of your surroundings to help prevent possible accidents in places where they're most likely to occur.
The Palisade has a modern and stylish exterior well designed for safety. The advanced safety features on the Palisade include side-view mirror cameras that supply video of blind spots, helping you get a better sense of your surroundings to avoid any potential accidents.
Both vehicles also have Smart Cruise Control features that help you automatically maintain a safe distance from vehicles in front of you when cruise control is activated.
The Palisade also features standard automatic headlights and High Beam Assist. This is available on the Kia Telluride, and it can be a great feature to have as you navigate dark and narrow roads where you'll need better visibility.
Hyundai Palisade vs Kia Telluride Technology Features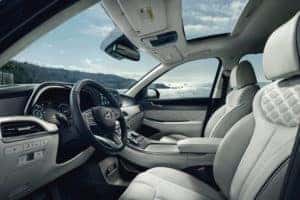 The technology within a vehicle can help with a variety of things. It keeps us connected, so we can stay in tune with the world around us. It helps us navigate the roads safely and find our next destination. It also helps keep us entertained when we're on the road.
For many drivers, the technology features in a vehicle are important for all those reasons: to stay connected, informed, and entertained.
Both the Hyundai Palisade and the Kia Telluride allow you to connect your smartphone to your vehicle using Apple CarPlay® and Android Auto™ and both models provide available wireless device charging and a touchscreen that makes it easier than ever to access your favorite apps and resources, such as Navigation, with the push of a button.
Both vehicles also offer a Driver Talk in-car intercom that allows easy communication between front-row passengers and second- and third-row passengers. This is an available feature that drivers with families will love, especially if they want to talk to rear-seat occupants without raising their voice. With just the simple push of a button, it can be possible.
The Palisade has other features that are also on the Telluride, but those on the Hyundai are more expansive. For example, the Palisade has two more additional USB ports than the Kia Telluride and offers a 12-speaker Harman Kardon stereo compared to the 10-speaker stereo available in the Kia Telluride.
READ MORE HYUNDAI PALISADE REVIEWS
Make Your Hyundai Selection Today
Both the Hyundai Palisade and the Kia Telluride are quality family vehicles that offer a lot of similar attributes. From ample interior space and quality performance to the high-end safety and technology features, both vehicles can help you arrive in style.
You'll want to continue to do your own research and schedule a test drive to see for yourself which vehicle fits your needs better and can offer more to you and your family on a daily basis. Visit us today at Dennis Hyundai East and schedule your test drive of the Hyundai Palisade to get some firsthand experience behind the wheel. See how this vehicle can help you and your family get around Reynoldsburg, Columbus, and Westerville, Ohio, enjoyably and safely. Contact us today!