Hyundai Palisade Specs

Are you on the lookout for the right SUV to get you to all your favorite dog parks as well as take you from store to store during your weekend shopping sprees all over Columbus, Westerville, and Reynoldsburg, Ohio? The folks here at Dennis Hyundai East would like to introduce you to the Hyundai Palisade.
This accommodating motor vehicle has plenty of noteworthy attributes you'll want to check out for yourself. To help you get started, we've put together this quick overview of some of the specs that make it such a standout. Continue reading to find out if the Palisade has what it takes to be your next on-road companion.
Shop Our Hyundai Palisade Inventory
Hyundai Palisade Specs: Comfort Throughout the Cabin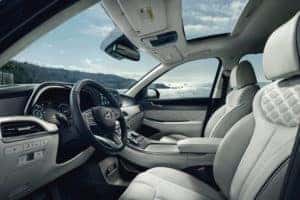 Whether you're transporting your dogs to the groomer or participating in a carpool to the office, you and your passengers will be glad to know the Palisade has you covered with an abundance of cabin space.
It boasts a total interior volume that measures 173.3 cubic feet as well as passenger volume that comes to 155.3 cubic feet. With numbers like these, you can be sure there will be plenty of wiggle room for everyone on board, no matter where they're seated.
Palisade Cargo Capacity
Whether you're loading up shopping bags or luggage, the 18 cubic feet of cargo capacity behind the third row will make sure none of the dimensions discussed above are sacrificed.
In addition, the Hyundai Palisade supplies you with even more stowing opportunities. When the third row of seats is folded down, you'll have 45.8 cubic feet at your disposal. This expands to 86.4 cubic feet when the second row is folded down, too. As a result, the Palisade is likely to be a popular vehicle when it comes time to help friends and family members move.
A Look Under the Hood of the Hyundai Palisade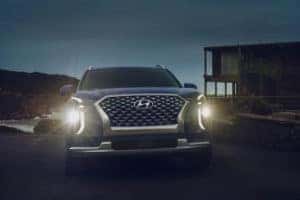 The Hyundai Palisade is propelled by a 3.8-liter 6-cylinder engine. You can count on it to produce a maximum 291 horsepower to get you from Point A to Point B. Whether you're making your way up a set of switchbacks on the side of a mountain or holding your own during rush-hour traffic, this engine has you covered.
In addition to giving you all this oomph, the Palisade allows you to focus on the drive itself instead of how much gas remains in the tank. Its maximum gas mileage consists of an EPA-estimated 19 city/26 highway MPG.
Experience the Hyundai Palisade for Yourself
The preceding Hyundai Palisade specs review has provided you with a glimpse into the world of this fully capable motor vehicle. If you like what you've learned so far, you're just about ready for the next step. Drivers who call Columbus, Reynoldsburg, or Westerville, OH, home can get a closer look at this impressive SUV by contacting Dennis Hyundai East and scheduling a convenient day and time to take it out for a test drive.