Hyundai Elantra vs Toyota Corolla

Folks in Columbus, Westerville, and Reynoldsburg, Ohio, are curious about how the Hyundai Elantra and the Toyota Corolla can satisfy their various needs when it comes to their daily commutes. The team at Dennis Hyundai East wants to give you a hand in narrowing down your options even more. Take a look at the following Hyundai Elantra vs. Toyota Corolla comparison to find out which of these sedans is the right one for you.
---
---
Interior Measurements for the Hyundai Elantra vs Toyota Corolla
From carpooling to the office to spending the day shopping with your family, it's important for the car you choose to have all the space you and your passengers will need. Take a look at the table below to explore the interior dimensions these two vehicles provide:
Headroom

(front / rear)

Legroom

(front / rear)

Shoulder Room

(front / rear)

Hyundai Elantra
40.6 inches /

37.3 inches

42.3 inches /

38 inches

56.5 inches /

55.6 inches

Toyota Corolla
38.3 inches /

37.1 inches

42 inches /

34.8 inches

54 inches /

51.7 inches
Whether you're sharing the front-row seats with your spouse or one of your kids, the Elantra supplies an abundance of personal space. The same is true for passengers in the back seats. These second-row measurements make it clear there's more than enough comfort in the Elantra to go around. While the Corolla comes close, the Elantra is simply more accommodating.
---
---
Convenience Features
Both the Hyundai Elantra and the Toyota Corolla provide a lot of convenient attributes. One area worth mentioning is the audio system display that allows you to make adjustments quickly while remaining focused on the drive itself.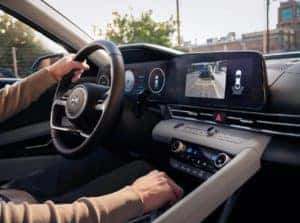 The Elantra comes standard with an 8-inch touchscreen and is available with one that measures 10.25 inches. The Corolla includes a 7-inch touchscreen as a standard element and is available with a touchscreen that comes to eight inches. The 10.25-inch screen available in the Hyundai Elantra is clearly the superior option here.
Hyundai Elantra vs Toyota Corolla: a Look at Safety
Within the safety category, the Elantra places an emphasis on increasing your overall awareness. It comes standard with High Beam Assist and is available with Parking Distance Warning—Reverse. The High Beam Assist provides optimal visibility when you need it most. The Parking Distance Warning–Reverse lets you know if you're getting too close to another vehicle while backing in or out of a parking spot or driveway. You won't find either of these features in the Corolla.
---
---
Hyundai Elantra vs Toyota Corolla: The Verdict

With its roomy cabin, accessible touches, and reassuring safety features, the Elantra shows itself to be one impressive vehicle. If what you've learned has piqued your curiosity to check it out for yourself, then contact the team at Dennis Hyundai East, serving Reynoldsburg, Columbus, and Westerville, OH, today. A member of our team will be happy to help you schedule your Hyundai Elantra test drive.
---