Community Spotlight: The Roosevelt Coffeehouse

While the right ingredients can help a barista slip a perfect cup of coffee into your hands, coffee is about more than just the beans. Drinking coffee is about spending time with friends or providing a companion while you're alone with your thoughts.
Ambience and, of course, the warmth of fresh coffee hitting your lips and running through your soul can invigorate your day. The crew at The Roosevelt Coffeehouse provides a unique coffee experience everyone can enjoy.
Okay, So What About the Beans?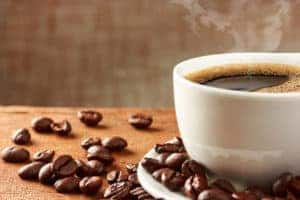 Okay, so maybe the beans do have something to do with it. After all, a blend of coffee and experience can craft an individualized taste unique to that moment.
This includes the seasonal coffee that helps define shared experiences with friends and family. A winter blend that combines fudge, cherry, and caramel is too delectable to pass up. Another enticing mixture like Guatemala Union Cantinil blends the vibrance of Guatemala into each cup, mixing notes of chocolate, pear, and caramel.
You can follow The Roosevelt Coffeehouse on Facebook to catch updates on their seasonal blends.
Coffee With a Conscience
What makes The Roosevelt Coffeehouse unique is that each cup can be consumed with a clear conscience. The non-profit began in April 2015 with a desire to make a difference. Their mission supports initiatives that combat hunger, unclean water, and human trafficking.
In the five years following their foundation, The Roosevelt Coffeehouse raised over $125,000 to make the world a better place. Over 675,000 people who supported the coffeehouse also helped over 30,000 people around the world. Their impact includes local groups and spreads to places like India and Africa.
Altruistic Ambience
In addition to improving the world outside of the shop, The Roosevelt Coffeehouse supports the local community with an inclusive atmosphere. This feeling extends to clientele who can not only find comfort in the coffee, but also the welcoming ambience that promotes feelings of togetherness.
Whether you are studying for a big test or hammering out the first chapters of your novel, you can find a true escape inside their walls. If you are having fun with friends, you can listen to the crackle of a needle hitting the vinyl records spinning on their turntable.
The Roosevelt Coffeehouse Menu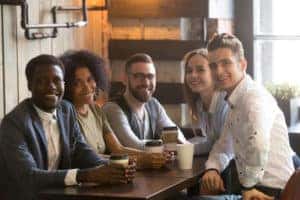 In addition to their traditional drip coffee, The Roosevelt Coffeehouse offers an array of beverages and food that suits a variety of tastes. You can warm yourself with a wake-up shot of espresso. The sip of a cappuccino or a latte can also spread a smile across your face in the morning.
Their menu presents refreshing cold brew coffees. This includes a healing elixir of Black Medicine iced coffee. An iced latte or frozen cup will recharge your day.
The non-profit also offers gluten-free pastries, cake pops, and donuts as part of a menu that has a little something for everyone.
How To Enjoy The Roosevelt Coffeehouse
The Roosevelt Coffeehouse has three locations that embrace the community. Travelers through the Discovery District can stop in at 300 E. Long Street. Their location at Gravity Project at 462 W. Broad Street also has a meeting room that can host a group function. You can also stop into their spot at Olentangy River Brewing Company.
Whether it is music, culture, or community, The Roosevelt Coffeehouse offers not just the right beans, but an opportunity to make a difference.