Community Spotlight: Florin Coffee

For many people, the day doesn't start until they've had their coffee. Be it a sloshing paper cup, a steaming mug, or a hand-warming thermos; coffee is essential in countless daily routines. Ohio roaster Florin Coffee is committed to bringing quality, significance, and love to that special part of your day.
About Florin Coffee
Florin Coffee launched in 2018 when husband and wife Hans and Joelle Hochstedler began a coffee roasting operation in Columbus, OH. Bringing nearly two decades of combined experience and passion for coffee and people to the project, they immediately made a splash. Just two years later, propelled by overwhelmingly positive feedback from the community, the couple opened up a cafe where locals and coffee buffs alike can gather and share a cup.
Their approach to coffee sets them apart from their competitors, whether mom-and-pop roasters or java juggernauts. Florin Coffee takes meticulous care to honor their carefully selected beans as well as the people involved every step of the way.
The Difference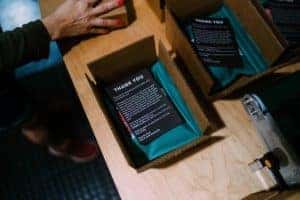 Behind each cup of coffee is a crew of hard-working people. From the farmers and workers growing, harvesting, sorting, and processing the beans, to those importing and roasting the beans, it's a labor of love. That's why Florin Coffee is dedicated to partnering with importers and co-ops who prioritize traceability, sustainability, and quality in their operations.
This commitment is evident in their actions. The team regularly travels to build relationships with farmers and importers and learn more about their processes and ethical practices.
The roasters give that same degree of dedication to each bean, roasting individual varieties and experimenting until the roast perfectly brings out each unique characteristic and flavor profile. They bring out the best in each roast by applying their veteran coffee knowledge, a critical palate, and a pulse on current trends.
Each cup served at the cafe is brewed to perfection, but online brewing tutorials are also on offer to ensure each cup you enjoy at home provides the same quality. The tutorial videos are detailed but still user-friendly and easy to follow along with at home. Pair this with their subscription service, and each day will begin with an exquisite cup of coffee.
The Coffee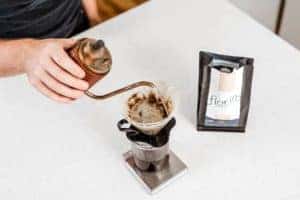 Now to the star of the show—the coffee. Florin Coffee offers various unique blends, sourced and processed in keeping with their commitment to uplift the coffee industry and champion ethical practices. For example, their Ecuador Jaime Ponce roast from the Pichincha region of Ecuador is ethically produced, imported, and processed. Purchasing Ecuador Jaime Ponce ensures fair wages and ethical treatment for farmers, including health care paid time off. Each cup offers a creamy body with notes of grape and milk chocolate.
As previously mentioned, Florin Coffee offers coffee by the cup at their stylish cafe, allowing guests to try each roast in a relaxed and social setting. Whole beans are available at the cafe and online. Don't worry if you don't have a grinder at home; simply ask for their experts to grind your coffee in the special instructions section of your order. Don't forget to include your brewing method so they can get the grind just right.
Florin also offers an online coffee subscription, so you never run out of coffee. You can subscribe to either a rotating variety of roasts or a consistent supply of their complex yet approachable inaugural roast, The Ranger. Free shipping is included with each subscription.
Finally, Florin Coffee uplifts their community by upholding partnerships with local businesses and makers who supply the cafe with delectable desserts, baked goods, and even artisanal soda. They also offer wholesale consultations for businesses or organizations looking to carry their coffee.
---
Say Hello and Grab a Cup of Joe!
Whether you're looking for a pick-me-up or a transcendental coffee tasting experience, be sure to stop by Florin Coffee today and say hello! The cafe is open daily!
Don't forget to check out their Facebook and Instagram for updates on new roasts and cafe offerings.